Quinoa con verduras y Calabizo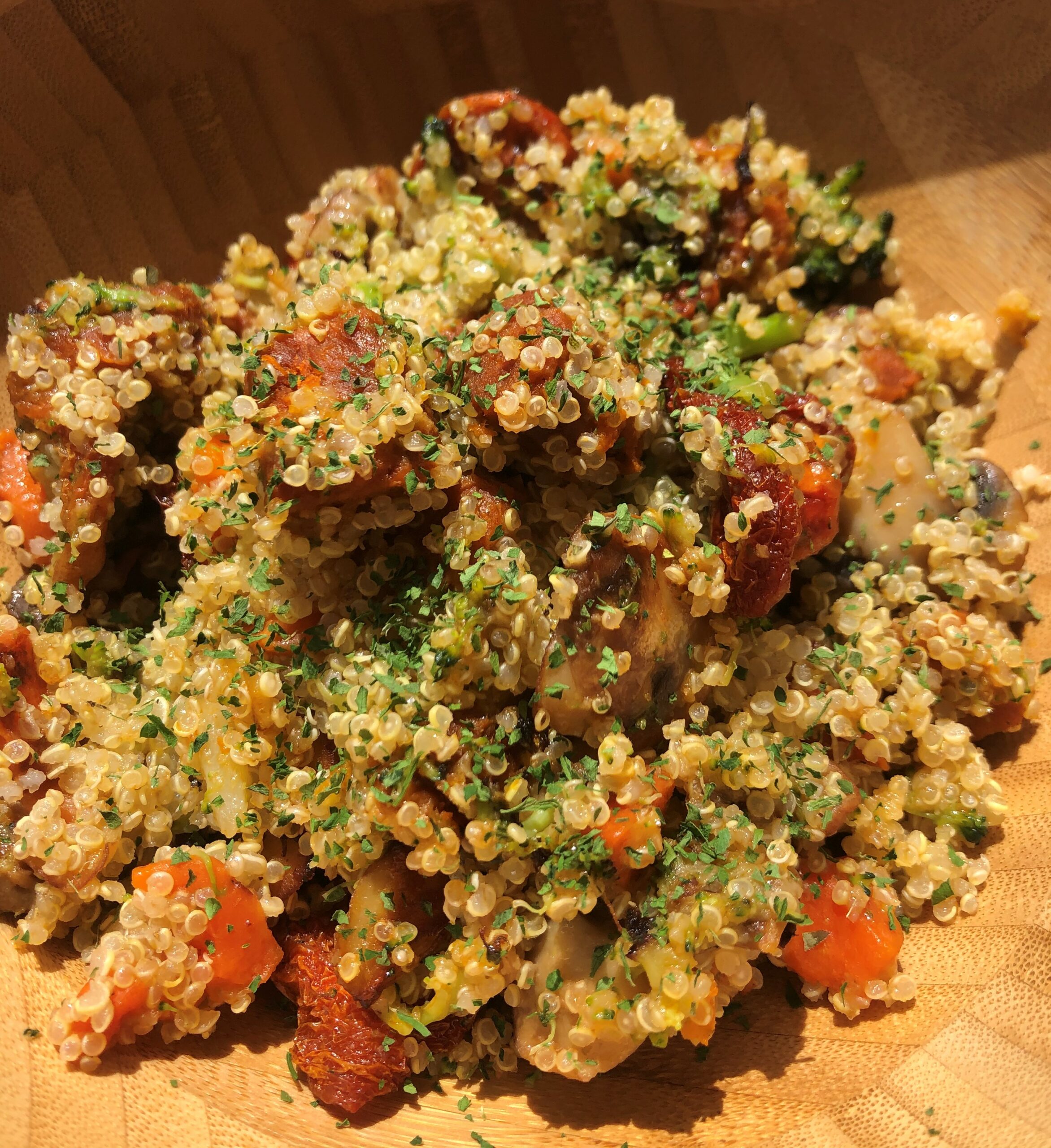 ¿Sabías que la quinoa sigue siendo una gran desconocida para muchas personas?
¿Cocinaste alguna vez algún plato con este alimento repleto de nutrientes?
Hace casi 25 años que la FAO (Food and Agriculture Organization), Organización de las Naciones Unidas para la Alimentación y la Agricultura, catalogó a la quinoa como uno de los alimentos del futuro, debido a sus múltiples beneficios y diversos usos.
La quinoa es única debido a su calidad de semilla que puede comerse de modo similar al grano, siendo buena fuente de energía y fibra dietética presentando cantidades significativas de minerales como hierro y zinc.
Esta receta de Quinoa con verduras y Calabizo es por cortesía de Aida Fernández Aranda, una madre celíaca y vegana, que le encanta la cocina y es amante de los animales. Esperamos que os guste y la disfrutéis!
Ingredientes: (Aprox. para 3 personas)
150 g. de quinoa. (2 partes de agua para 1 de quinoa)
1 paquete de 3 uds. de Calabizo
1 bolsa de verduras para el vapor (zanahoria, brocoli y coliflor).
1 bandeja de champiñones laminados.
La mitad de una bolsa de tomates secos (sin aceite).
Al gusto: sal con hierbas marinas, ajo en polvo, cebolla en polvo y perejil para decorar al final.
Ponemos las verduras en el microondas durante 6 minutos para cocinarlas al vapor
En una olla ponemos agua a hervir. (2 partes de agua por 1 de quinoa). Mientras lavamos la quinoa bajo el chorro de agua fría. Cuando el agua esté en ebullición se añade la quinoa con sal y aceite. 10 minutos.
En una sartén grande se saltean los champiñones con un poco de aceite.
Cuando los champiñones tengan un toque doradito añadimos los tomates secos y removemos.
Echaremos en la sartén la verdura previamente hecha al vapor en el microondas y mezclaremos.
Añadimos el Calabizo previamente pelado y cortado a trocitos y removemos.
Finalmente echamos la quinoa, mezclamos y añadimos las especias al gusto.
Una receta rápida y sencilla, para un plato diferente y original! 
Have you tried this recipe?
Upload an image to Instagram with your recipe and tag us!
Every day we are more lovers of Calabizo. Join up!