Quiche de calabacín, puerro y calabizo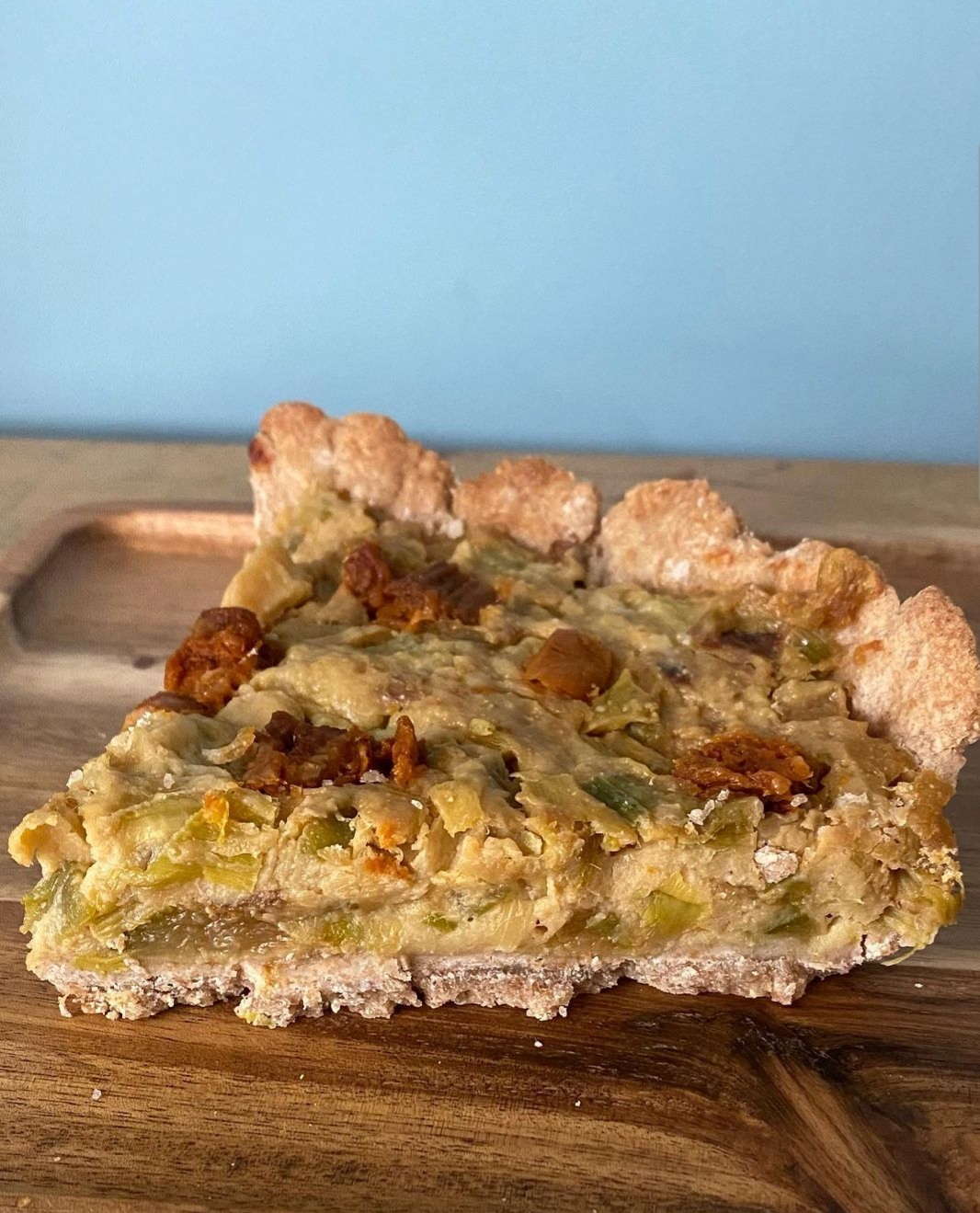 Quiché vegana de calabacín, puerro y calabizo
Con esta receta, comprobarás que es posible disfrutar de platos de siempre, conviertiéndolos en recetas 100% vegetales.
De origen francés, la receta original de la quiché es una tarta salada de pasta hojaldrada rellena con una mezcla de huevos batidos, leche y diversos ingredientes salados que se cuece al horno; puede servirse caliente, templada o fría.
Con la receta de Sara, dietista y autora del blog Bionutri, comprobarás que podrás disfrutar de una quiché totalmente vegana, elaborada únicamente con ingredientes de origen vegetal, sustituyendo los huevos con opciones como la que propone Veggs, la leche con bebida vegetal y darle un rico sabor a chorizo con nuestra alternativa Calabizo.
Disfruta del sabor de esta quiché 100% vegetal y con tu creatividad culinaria podrás descubrir múltilples variedades de quichés, con diferentes verduras y bebidas vegetales  que le aportarán distintos sabores y texturas.
👩‍🍳MASA:
100 g harina de arroz
100 g harina de centeno integral
100 g margarina
Sal yodada
👩‍🍳RELLENO:
1 calabacín
1 puerto
Bebida vegetal y "no huevo" :Veggs
1 Calabizo
Levadura nutricional
Aceite de oliva para las verduras
Especias
Preparamos la masa. Mezclamos las harinas y derretimos la margarina para integrarlo todo junto a la sal. Hacemos una bola y aplastamos dando forma redonda para ponerla en nuestro molde y reposar en nevera.
Rehogamos las verduras en el aceite de oliva y especias. Preparamos el "falso huevo" Veggs con la bebida vegetal para posteriormente añadirlo a la sartén con las verduras y la levadura nutricional.
Con el horno precalentado a 180/200 grados, horneamos la masa aprox 20 min. después la rellenamos con las verduras y ponemos el calabizo por encima, previmente pelado y troceado;  y la volvemos a poner en el horno para que se termine de hacer y dorar.
Have you tried this recipe?
Upload an image to Instagram with your recipe and tag us!
Every day we are more lovers of Calabizo. Join up!