Potaje de garbanzos con calabaza y Calabizo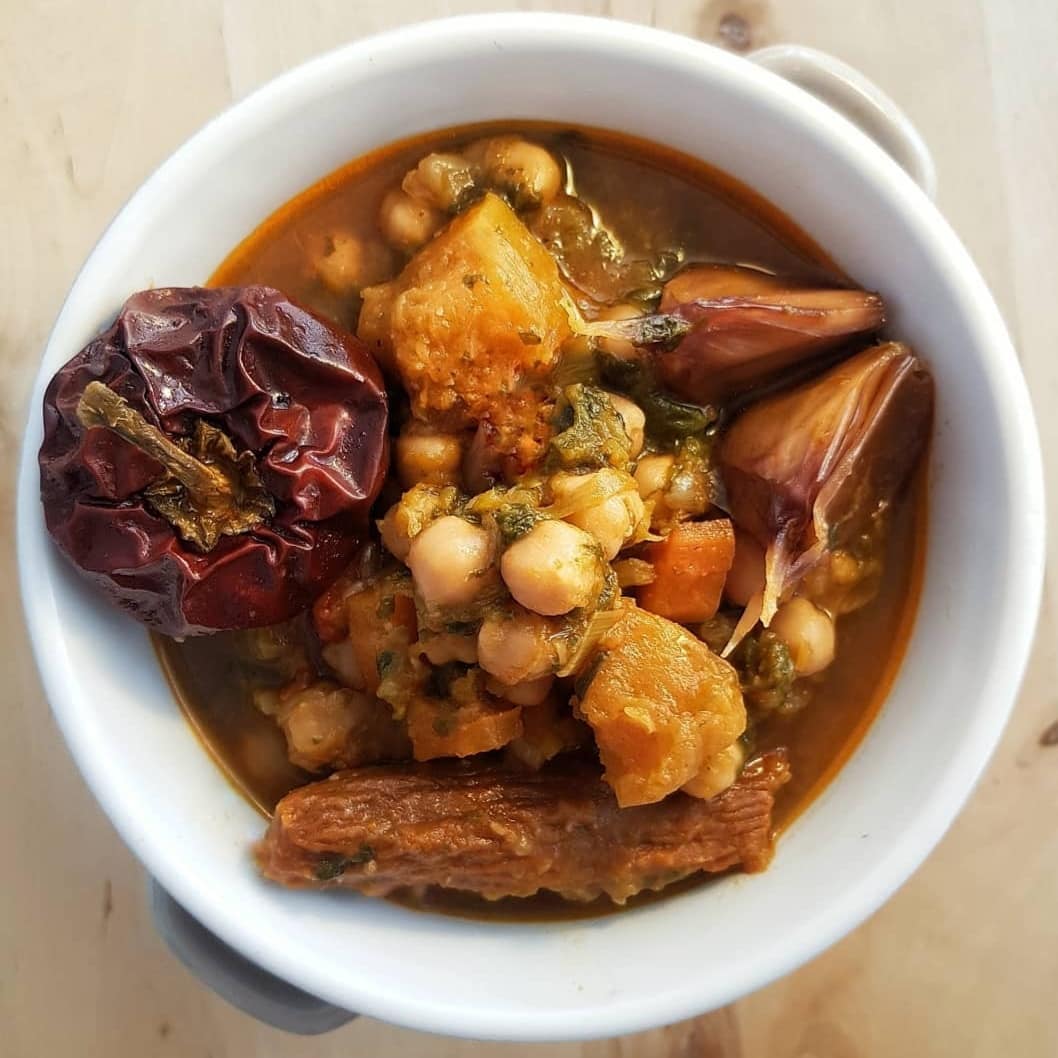 Como bien dice el creador de esta sabrosa receta, ¡vayan desempolvando sus cucharas!!!
Para estos días frescos y mojados proponemos un buen Potaje de garbanzos con calabaza y Calabizo!
Israel, administrador del movimiento Real Fooding, (proyecto que fomenta un estilo de vida saludable basado en comer comida real) nos invoca, en esta época de calabaza,  al "cuchareo" que tan bien sienta en estas fechas otoñales!
Ingredientes: para 4 personas
300 g garbanzos
1/2 k de calabaza
250 g de acelgas
1 cebolla
2 zanahorias
2 tomates
2 Calabizos
1 cabez de ajos
2 ñoras enteras
Aceite de oliva virgen extra (AOVE)
Sal y pimentón dulce y picante a quien le guste
Los garbanzos hay que dejarlos la noche anterior en remojo, Israel eligió garbanzos pedrosillanos, que son los que más le gustan.
Sofreímos en la olla la cebolla y zanahoria picadas. Cuando esté pochado añadimos una cucharada de pimentón dulce (a quien le guste puede mezclarlo con picante) y los tomates rallados. Sofreímos unos minutos más.
Añadimos la calabaza cortada en trozos grandes, los garbanzos, acelgas, cabeza de ajo y las ñoras. Cubrimos de agua.
El tiempo varía dependiendo del tipo de olla, en una olla a presión lleva unos 35 minutos.
Abrimos y retiramos las cabezas de ajos, las ñoras y un cazo de caldo y trituramos (en la foto aparecen sin triturar, pero está más rico triturado). Lo incorporamos a la olla, añadimos los 2 Calabizos y sal al gusto y dejamos que haga "chup-chup"  a fuego bajo unos minutos más y listo!
Esperamos que disfrutes con este apetitoso y nutritivo plato de cuchara!
Have you tried this recipe?
Upload an image to Instagram with your recipe and tag us!
Every day we are more lovers of Calabizo. Join up!