Patatas Hasselback con Calabizo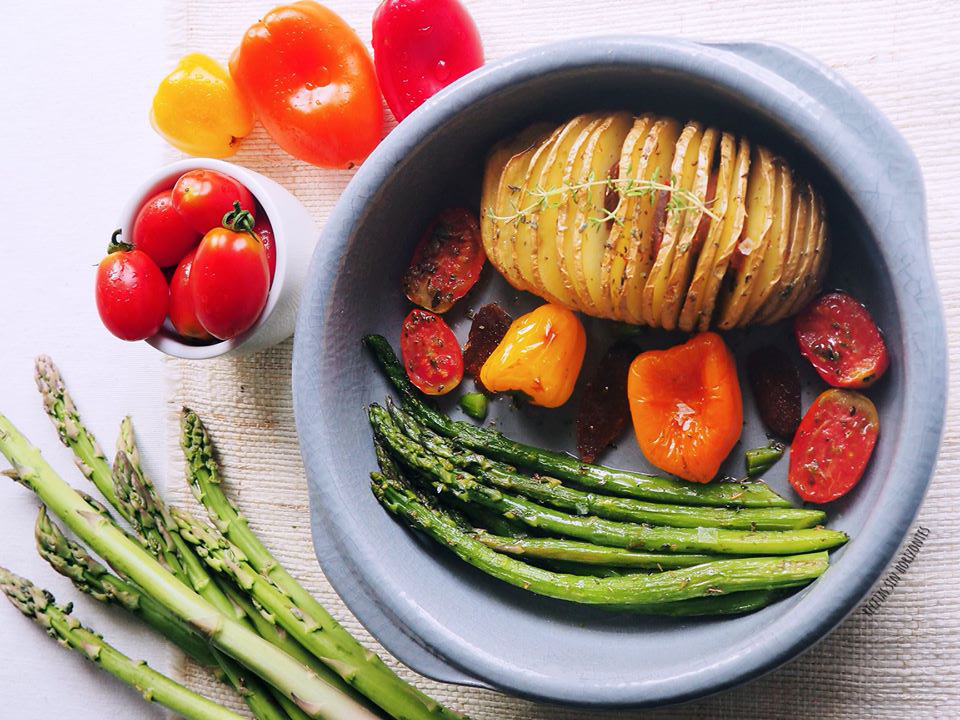 Te presentamos esta original receta de Patatas Hasselback con Calabizo.
Esta vez con la colaboración de Teba autora del blog Recetas sin horizontes, una web de recetas 100% vegetales y sin gluten, donde ofrece ideas para cambiar a un estilo de vida más ecológico y sostenible 
  y esta es su sabrosa propuesta!
El origen de las patatas Hasselback está en Suecia, en uno de los restaurantes más prestigiosos y antiguos de Escandinavia (desde 1700) el Hasselbacken, que se encuentra en la isla de Djurgarden, al este de la ciudad de Estocolmo. En una de sus épocas gloriosas, en 1953, Leif Elisson de Värmland (uno de los chefs aprendices del restaurante) fue quien creó esta famosa receta de Patatas Hasselback. Aquí podéis descubrir más acerca de este restaurante Hasselback
Raciones 2-3 | Cantidad 3
3 patatas medianas
1 o 2 unidades de Calabizo (picante o dulce al gusto)
30 ml aceite de oliva virgen extra (AOVE)
1 cucharadita de tomillo
1 cucharadita de orégano seco
Pimienta al gusto (solo si usas el chorizo dulce)
Sal al gusto
Tiempo de preparación 5 minutos Tiempo de cocción 40 minutos
Lavar muy bien las patatas (frotar preferiblemente con un cepillo de fibra de coco) y secar muy bien.
Para cortar las patatas hay dos opciones:
- Atravesar la base de la patata de extremo a extremo con un pincho para hacer brochetas. Podrás cortar la patata en rodajas muy finas, pero sin llegar hasta el final.
-Colocar dos palillos chinos a ambos lados de las patatas, y cortar en rodajas muy finas, aunque también puedes usar dos cucharas de madera si no tienes palillos chinos.
En un bol o vaso, mezclar el aceite con el orégano y el tomillo, añadir la mezcla a las patatas, incidiendo entre los cortes.
Cortar el Calabizo en láminas muy finas e introducir entre los cortes de la patata.
Calentar el horno con calor superior/ inferior a 200º y cocinar las patatas alrededor de unos 40 minutos.
Pasado el tiempo de cocción, comprobar si las patatas están bien cocidas pinchando con un tenedor, el pincho o un palillo. La cocción dependerá de tu horno y del tamaño de las patatas (continua la cocción hasta que estén bien hechas).
Una vez cocinado dejar reposar en el horno apagado 5- 10 minutos más, así todos los ingredientes cogerán más sabor, pero sin quemarse por el calor.
Preparación del acompañamiento:
Escaldar la cantidad de espárragos que prefieras, en abundante agua con sal de 3-4 minutos (depende de si te gustan los espárragos más crujientes).
Escurrir los espárragos y pasar un chorro de agua fría para detener la cocción.
Cortar los tomates cherrys y mezclarlos en un bol junto a los pimientos de colores, aceite, orégano, tomillo y pimienta. Añadir también los espárragos y mezclar todo.
Encender el grill del horno a 300º, añadir la mezcla de hortalizas en la bandeja y cocinar hasta que los ingredientes estén doraditos.
Añadir sal Maldon (o la sal que más te guste) antes de servir.
También podrás visualizar la receta en la web de Recetas sin Horizontes! y descubrir ideas y recetas basadas en plantas!
Que la disfrutes!
Have you tried this recipe?
Upload an image to Instagram with your recipe and tag us!
Every day we are more lovers of Calabizo. Join up!