This is Tooltip!
Migas gourmet con calabizo
This is Tooltip!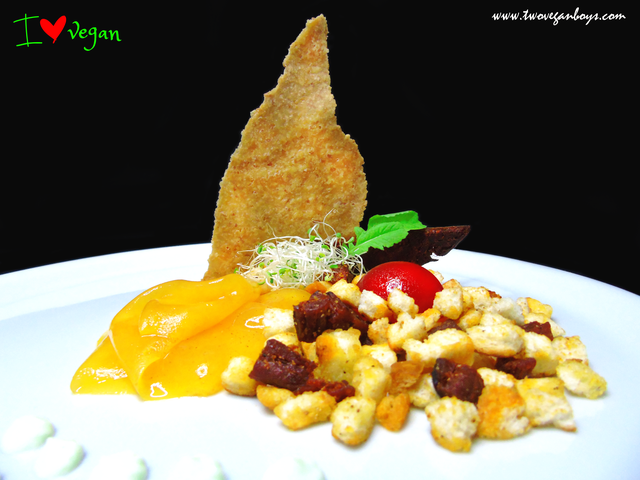 This is Tooltip!
Migas gourmet con calabizo
Esta espectacular receta es la ganadora de nuestro I Concurso de Recetas. Los creadores han sido Jose y Javi autores del blog @twoveganboys
Como bien definen ellos, "es un plato muy interesante en sabores y texturas muy compenetradas, unas tradicionales migas, potenciadas por ese velo de gelatina de naranja que se disuelve rápido en la boca y limpia las papilas con cada bocado por ese toque ácido, el dulce de la canela, el picante de la gelatina de chorizo, los crujientes acompañan en sabor y textura, sin olvidar el frescor de la mayonesa de apio".
Un plato gourmet que potencia nuestro calabizo y que sorprende a cada bocado. Esperamos que te animes a prepararla y la disfrutes!
This is Tooltip!
- 100 g de pan del día anterior
- 3 Calabizos
- 3 Dientes de ajo
- Aceite de oliva virgen extra (AOVE)
- Sal
Para el velo de gelatina de naranja:
- 110 ml de zumo de naranja colado
- 3 g de gelificante elastic de Sosa
- 1/4 de cucharadita de canela
Para la gelatina de chorizo:
- 1 Calabizo picante
- 200 ml de agua
- 15 g de gelificante vegetal de Sosa
- 1/4 de cucharadita de pimentón ahumado
Para la mayonesa vegana de apio:
- 50 ml de leche de soja sin azúcar
- 175 ml aceite de girasol
- 5 pencas de apio
- 1/2 Zumo de limón
- 1/2 Cucharadita de Xantana
Para el crujiente de almendra:
- 50 g de almendras tostadas
- 35 g de harina de trigo (puede ser otra)
- 40 ml agua
- 1 Cucharadita de margarina
Para el crujiente de chorizo:
- 1 Calabizo
This is Tooltip!
Pondremos la noche anterior el pan cortado a daditos sin corteza, en un bol con un poco de sal fina, y lo humedecemos salpicando con los dedos (no te pases con el agua, solo que el pan tenga humedad), lo tapamos con un paño hasta el día siguiente.
Comenzamos elaborando las gelatinas. Para la gelatina elástica de naranja, añadimos en un cazo pequeño el zumo, el gelificante elastic y la canela, disolvemos bien a fuego medio y subimos la temperatura hasta que hierva. Retiramos rápidamente del fuego y extendemos en un molde o bandeja grande para que tenga un grosor de unos milímetros y se forme el velo. Dejamos enfriar y reservamos.
Continuamos con la gelatina de chorizo picante, retiramos la tripa artificial del chorizo, lo troceamos y en un vaso largo lo trituramos con el agua, vertemos el resultado en un cazo, añadimos el pimentón y dejamos infusionar a fuego bajo - medio sin que llegue a hervir durante un rato para que el agua atrape todo el sabor. Pasado unos 15 minutos aproximadamente colamos el caldo. Lo vertemos en un cazo limpio y añadimos el gelificante vegetal, disolvemos bien y llevamos a ebullición, retiramos y rellenamos un molde de pequeñas semiesferas (puede ser otra forma si no tienes las semiesferas). Dejamos enfriar y reservamos.
Seguimos con la mayonesa, en un vaso largo, añadimos la leche de soja, las pencas de apio lavadas y trituramos bien, colamos el resultado (que tiene todo el sabor del apio) y vertemos en el vaso largo otra vez limpio. Agregamos un dedo de aceite de girasol y la sal.
Sumergimos la batidora en el vaso y empezamos a batir, sin levantar del fondo. Cuando la mayonesa esté homogénea vamos añadiendo poco a poco el zumo de limón moviendo la batidora, por último incorporamos a hilo, el aceite de girasol restante y la xantana hasta que nos quede con una textura suave y densa. Reservamos en el frigorífico.
Para realizar el crujiente de chorizo, retiramos la tripa artificial y lo cortamos por la mitad. Colocamos las piezas ahora entre dos papeles de horno y con un rodillo vamos haciendo una presión ligera para dejar el chorizo más fino y extendido sobre el papel (cuidado que no se se rompa o despedace). Lo deshidrataremos en el horno precalentado arriba y abajo con ventilación a 100 - 120 ºC, hasta que quede seco y crujiente (se introduce con el papel de horno). Retirar y dejar enfriar.
Para el crujiente de almendras, trituramos las almendras hasta que queden en pequeños trocitos finos, ahora las añadimos en un bol con el resto de los ingredientes y amasamos, extendemos en un papel de horno y colocamos otro encima, y realizamos la misma operación que con el otro crujiente, estirar hasta que quede una lámina de de varios milímetros. Procedemos también a deshidratarlo en el horno igual, cuando se note seca la masa, sacamos y dejamos  enfriar antes de retirar el papel de horno. pasado el tiempo, retiramos el papel con cuidado y reservamos el crujiente.
Por último, vamos a realizar al estilo tradicional las migas, en una sartén añadimos un poco de aceite de oliva y marcamos el chorizo cortado a fuego medio removiendo, sin que se queme; retiramos y reservamos. Ahora, en ese mismo aceite freímos removiendo los ajos con su piel, cuando estén dorados, incorporamos el pan y vamos dejando que se tuesten removiendo constantemente hasta que queden sueltos, añadimos el chorizo, cocinamos unos minutos más y vamos directo al emplatado porque las migas se comen caliente.
A un lado del plato colocamos la gelatina elástica de naranja, dándole la forma que más curiosa te parezca por que no se rompe, junto a ella una ración de migas, encima de estas, la gelatina de chorizo picante. Justo por detrás, colocamos unos puntos de mayonesa y apoyamos los crujientes de almendras y chorizo dando volumen. Decoramos con rúcula o brotes y terminamos con unos puntos de la mayonesa de apio.
Aquí tienes el resultado de un plato tradicional como son las migas pero con ingredientes de origen vegetal, convertidas así en unas sabrosas migas gourmet veganas con calabizo!
Have you tried this recipe?
Upload an image to Instagram with your recipe and tag us!
Every day we are more lovers of Calabizo. Join up!