Lentejas rojas con Calabizo a mi manera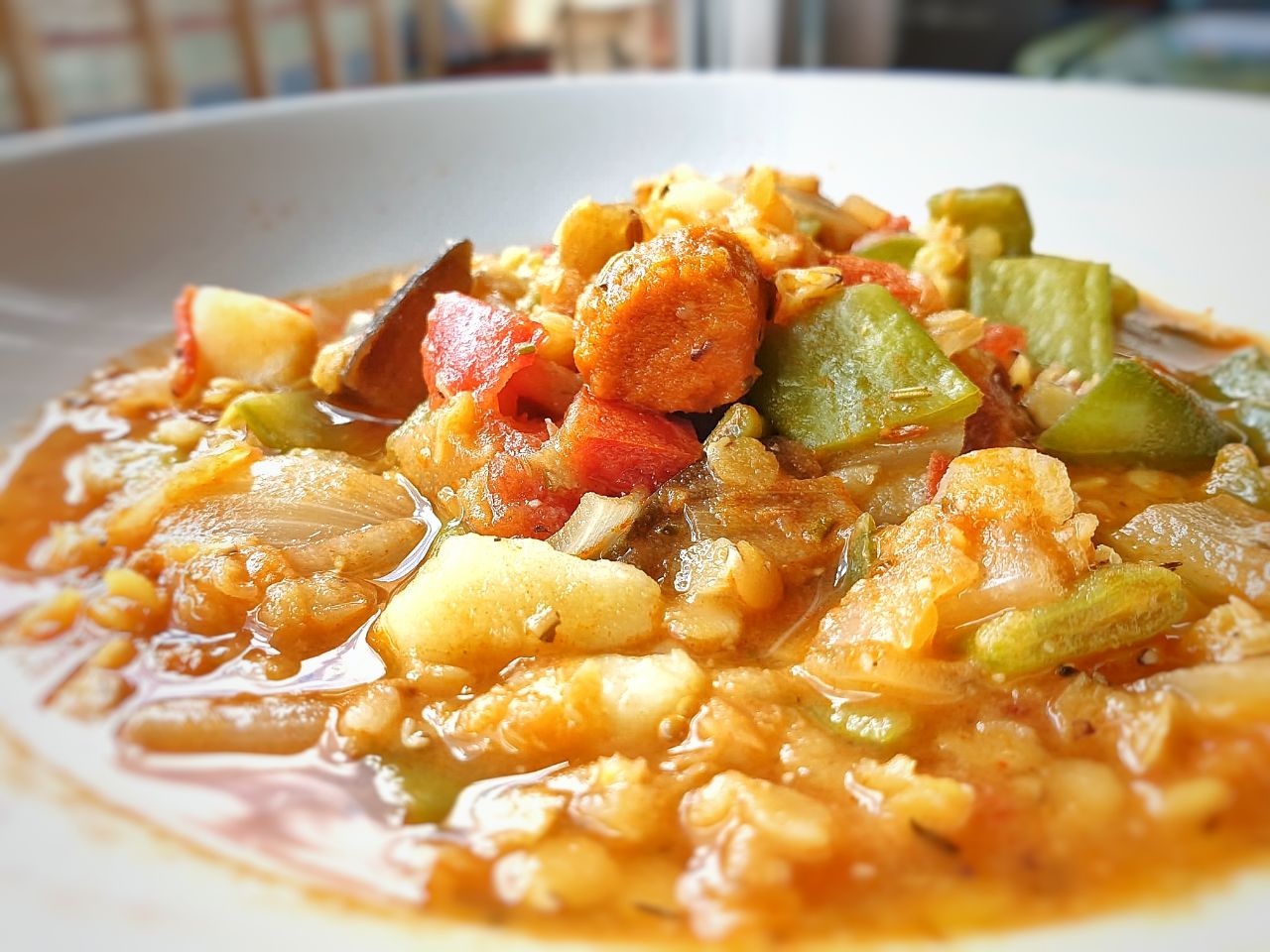 No hay receta única para las lentejas!!
Y Marisa Riquelme, una apasionada de la nutrición  y de la comida real (a punto de ser Técnica superior en Dietética y colaboradora en @Realfooding) , nos presenta su forma de preparar "Lentejas rojas con Calabizo a mi manera"
@maestra_realfooder, así es como la encontraréis en Instagram, comparte este nutritivo plato de cuchara, cargadito de legumbres, hortalizas y hierbas provenzales que le dan un toque especial a este buen plato de lentejas!
Esperamos que disfrutes de esta sabrosa receta!
Ingredientes para 2 personas:
100 g de lenteja roja pelada
230 g de judías planas
190 g de tomate maduro (2 tomates medianos)
110 g de pimiento italiano (1)
90 g de berenjena
140 g de cebolla (1 mediana)
15 ml de Aove
210 g de patata (cocida)
40 g de Calabizo (2 unidades)
Especias: Pimienta, sal, pimentón agridulce, cominos, romero, tomillo, hierbas provenzales y ajo en polvo.
Ponemos la verdura troceada con el aceite de oliva virgen extra (AOVE) hasta que esté medio pochadita. Si la patata no está cocida la pondremos ahora también.
Añadimos agua hasta cubrir las verduras casi por completo. Cuando esté empezando a hervir añadimos las lentejas. Estas lentejas se cocinan muy rápido (en 10- 15 minutos las tenemos) y no hace falta ponerlas a remojo. Una delicia. Nunca las había usado y me han gustado mucho.
Cuando le queden 3 minutos añadimos la patata cocida y los Calabizos (previamente pelados y troceados)
En este punto yo he subido el fuego a tope para que redujera un poco. Me gustan caldositas. Si os gustan con menos caldo añadir menos agua.
Marisa espera que os gusten, para ella sin duda es un platazo. Calentito y delicioso!
¿Habéis probado el calabizo? a ella le ha encantado, y no duda en recomendarlo 100%
Have you tried this recipe?
Upload an image to Instagram with your recipe and tag us!
Every day we are more lovers of Calabizo. Join up!