Lentejas con verduras (escondidas) y calabizo
Potajes y legumbres
Recetas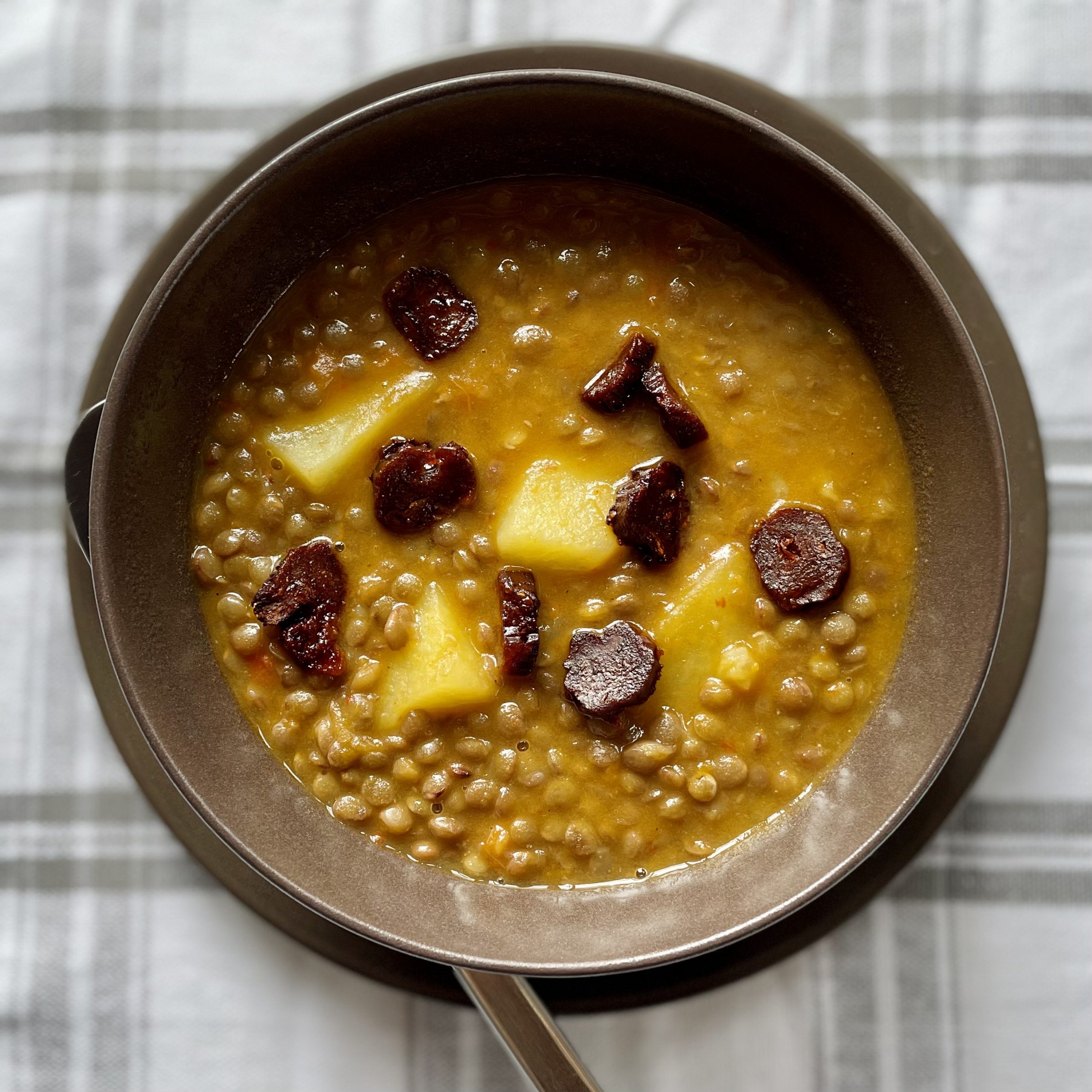 Con la llegada del otoño ya empiezan a apetecer platos más contundentes!
Te invitamos a que pruebes a hacer este plato de lentejas con verduras (escondidas) y calabizo, una idea de Olga, autora del blog @vegana_al_punto .
Esta receta son unas lentejas con verduras de toda la vida pero con un toque: las verduras están en sabor pero no en textura.
Es una buena opción para personas (muchas veces para los más pequeños) a quienes les cuesta comer verdura, ya que no se nota que está ahí.
Y añadir un poco de calabizo al final le dará al plato ese toque otoñal 👌🏼
* 120g. de lenteja pardina
* 1-2 patatas medianas
* 1-2 zanahorias
* 1/2 pimiento verde
* 1/2 pimiento rojo
* 1 cebolla blanca
* 2 dientes de ajo
* 1 cdta de pimentón de la vera
* 2 cdas AOVE
* pimienta negra y sal al gusto
* vinagre de Módena (opcional)
* calabizo
1. Pon las lentejas a remojar 2 o 3 horas antes.
2. En una cazuela añade el AOVE y el ajo cortado en lascas. Cuando comience a dorar añade la cebolla cortada muy fina y sal y deja que poche a fuego medio.
3. Pela y corta las patatas y zanahorias en taquitos pequeños y añade a la cazuela una vez esté la cebolla pochada. Remueve bien para que no se pegue y añade los pimientos en trozos muy pequeños. Añade la pimienta y el pimentón y rehoga todo.
4. En otra cazuela hierve las lentejas con un poco de sal aprox. 10-15 minutos (que no queden hechas del todo).
5. Una vez estén las verduras bien rehogadas apártalas del fuego y espera que enfríen un poco. Aparta los trozos de patata y con una batidora tritura todas la verduras hasta que se forme una crema.
6. Elimina parte del agua de las lentejas, añade las verduras trituradas y cuece otros 10-15 minutos hasta que las lentejas estén en su punto. Añade el resto de la patata cuando queden 5 minutos.
7. Sirve con vinagre de Módena y calabizo tostado (previamente pelado y troceado).
Have you tried this recipe?
Upload an image to Instagram with your recipe and tag us!
Every day we are more lovers of Calabizo. Join up!