Lentejas con boniato y Calabizo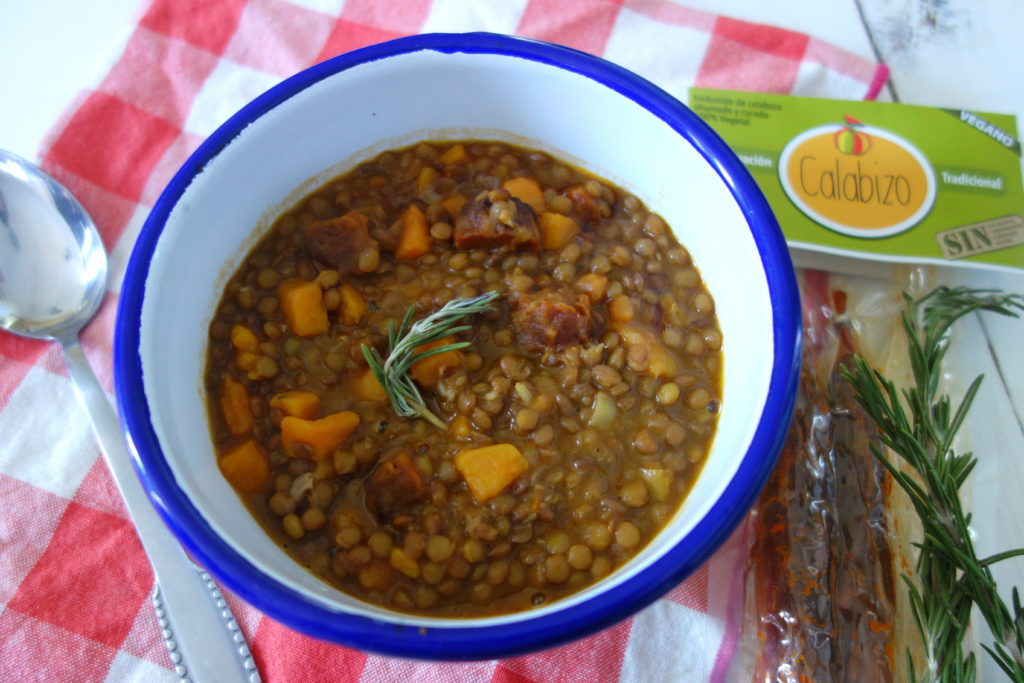 Empieza abril y parece que v
uelven los días fríos y
 las ganas de platos de cuchara y ricos potajes.
¿Será que la primavera al ver que seguimos en casa, deja paso al invierno?
Estrenamos abril con esta apetitosa receta de Lentejas con boniato y Calabizo, elaborada por Patricia, autora del blog Medio Limón
Los potajes de legumbres aportan una buena dosis de proteína, y también muchas vitaminas de todas las verduras que lo acompañan.
Aquí tienes esta sabrosa y nutritiva receta para que la puedas disfrutar en estos días que toca quedarse en casa!
1 puerro
1 boniato mediano
400 g de lenteja pardina
200 ml de tomate natural triturado
2 Calabizos (dulces o picantes, los que prefieras!)
Aceite de oliva, pimentón dulce de la Vera y Sal
Pon a remojo las lentejas el día anterior, al menos 8 horas cubiertas con agua.
Comienza el potaje con un buen sofrito de puerro, pícalo finito y rehógalo unos minutos hasta que comience a dorarse ligeramente, mientras tanto, pela y pica el boniato en cuadrados pequeños y añádelo a la olla con una pizca de sal, deja que se cocine a fuego medio, removiendo de vez en cuando, 10 minutos.
Pasado este tiempo, añade las lentejas escurridas y lavadas y un litro de agua aproximadamente (el agua tiene que cubrir bien las lentejas), una pizca de sal y el tomate triturado, deja que se cocine a fuego medio unos 40 minutos.
Cinco minutos antes de que finalice su cocción retira la piel del Calabizo, y córtalo en rodajas, saltéalo un par de minutos a fuego medio con un chorrito de aceite y viértelo en la olla de las lentejas, rectifica el punto de sal y sirve caliente.
Puedes descubrir más recetas veganas en su libro Recetas Veganas para Peques (y no tan peques) te encantarán!
y recuerda #QuedateEnCasa #PorTi  y #PorTodos
Have you tried this recipe?
Upload an image to Instagram with your recipe and tag us!
Every day we are more lovers of Calabizo. Join up!