Gyozas rellenas de cocido con Calabizo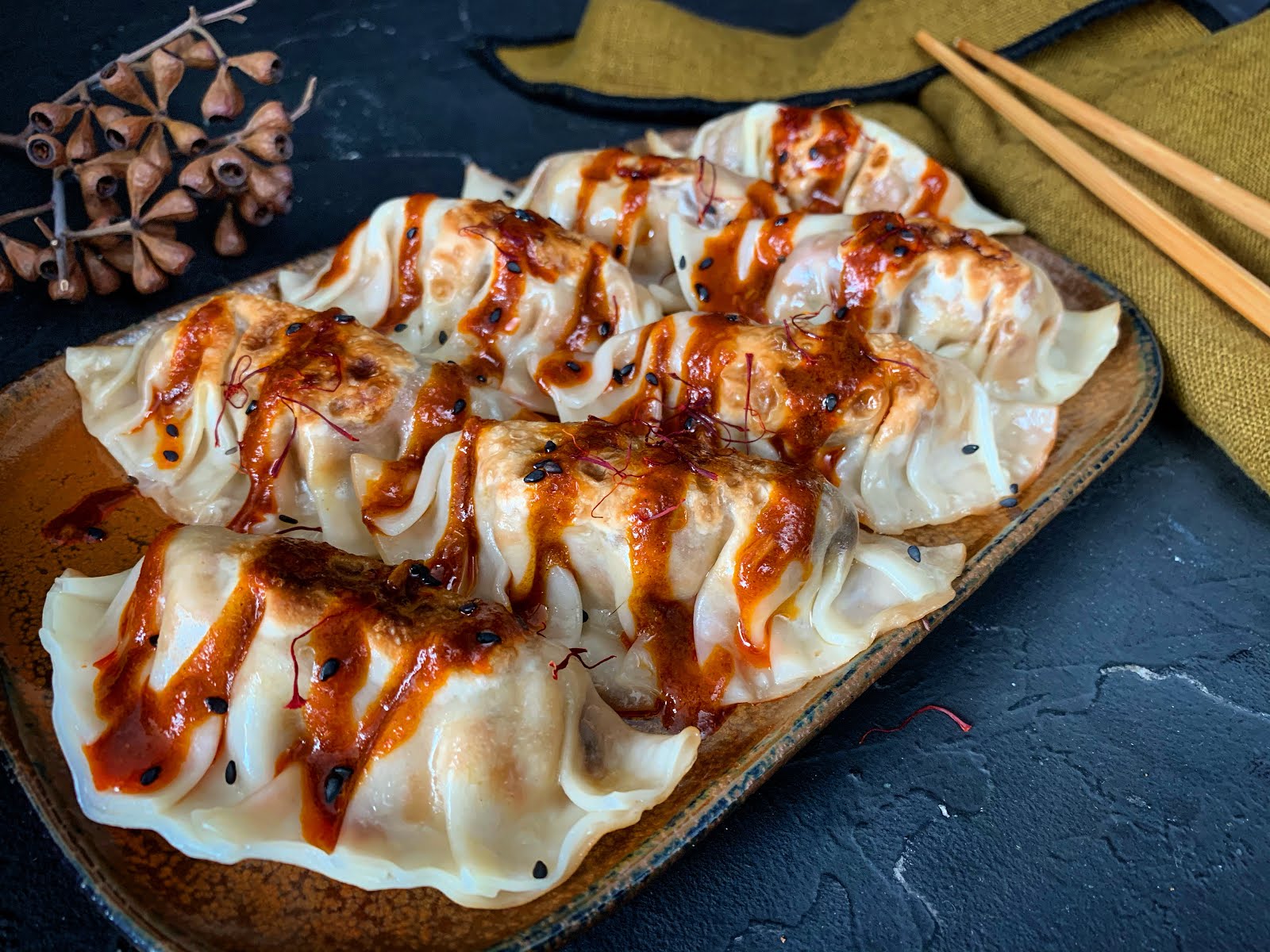 Disfruta de estas sabrosas empanadillas japonesas, llamadas Gyozas. Aquí encontrarás una sabrosa receta de Gyozas rellenas de cocido vegano.
Hace tiempo que descubrimos Mute Food, un estupendo blog de Recetas Veganas y en las que "su comida no grita"
Les propusimos colaborar con una de sus recetas y aceptaron encantados porque ya conocían Calabizo y además les encanta!
Así que con motivo del Carnaval (en Galicia le llamamos "Entroido) donde es muy típico el cocido, decidieron darle una vuelta y han elaborado esta magnífica receta de Gyozas (empanadillas japonesas) rellenas de cocido con Calabizo!
Ingredientes:(salen unas 40 Gyozas rellenas)
Para las Gyozas:
3 Calabizos
150 g de repollo
1 bote de garbanzos cocidos
Aceite de oliva
Sal
Obleas para gyozas
Para la salsa:
1/4 de taza de aceite de oliva
2 dientes de ajo
1 cda de pimentón ahumado
1 cdta de almidón de maíz
1 taza y 1/2 de caldo
Sal
Empezamos por las gyozas
Lo primero que tenemos que hacer para elaborar esta receta de Gyozas rellenas, es el relleno. Como veis no lleva muchos ingredientes ni muy raros y se hace en una patada. Sólo tenemos que poner a cocer el repollo picado y mientras desmigamos los Calabizos y los ponemos en un fondo de aceite a fuego medio. No queremos que se doren, sólo cocinarlos un poco.

Escurrimos los garbanzos y los machacamos MUY POCO, con un tenedor. No queremos conseguir un hummus. Sólo romperlos un poco para que cojan mejor el sabor y para que sea más fácil rellenar las gyozas. Añadimos los garbanzos y seguimos a fuego medio/bajo, removiendo un poco. Sólo queremos que cojan un poco de sabor.

Cuando tengamos listo el repollo lo incorporamos a la mezcla, añadiendo una taza de caldo y lo dejamos a fuego bajo reduciendo. El resto del caldo lo reservamos para la salsa, con la que nos vamos a poner ahora.
Para la salsa de las gyozas rellenas:
  Ponemos en un cazo el cuarto de taza de aceite con los dos dientes de ajo y subimos a fuego medio/alto.
 Ponemos los ajos ya desde el principio para que el aceite vaya cogiendo el sabor y no se nos doren los ajos en 5 segundos sin más.  Cuando los ajos tengan colorcillo los retiramos y los reservamos.
Quitamos el aceite del fuego, lo dejamos templar un poco y añadimos el pimentón removiendo. Vigilad de verdad que no esté el aceite muy caliente para que no se queme el pimentón.
Añadimos ya la taza y media de caldo y volvemos a poner al fuego. Mientras coge calor diluimos en un poquito de agua el almidón de maíz y machacamos los ajos. Incorporamos todo a la salsa y removemos bien. Dejamos que espese a fuego bajo, removiendo de vez en cuando.
De vuelta con las gyozas
Cuando en el relleno se reduzca el caldo, lo podemos poner a reposar y templar un poco para empezar a montar.
Tenéis tutoriales en youtube, pero es muy fácil. Simplemente ponemos una cucharadita en la oblea, mojamos los bordes, unimos presionando en la mitad de la unión, y a los lados vamos haciendo dobleces hacia el interior en una de las partes y presionando contra la otra parte.
Cuando las tengamos listas ponemos en una sartén un chorrito de aceite de oliva a fuego fuerte. Echamos las gyozas y en menos de un minuto les damos la vuelta (se doran muy rápido). Dejamos otro minuto, bajamos a fuego bajo, añadimos la taza y media de caldo, tapamos y las dejamos hasta que se consuma el líquido. Sí queréis podéis hacerlas directamente cocidas o fritas.
Y listo. ya sólo queda emplatar. Ponemos las gyozas, la salsa y les podéis dar un toque con sésamo negro y unas hebras de azafrán.
Esperamos que disfrutes de esta receta de Gyozas rellenas!
Podéis descubrir más recetas veganas de Mute Food en su web: www.mutefood.com y a seguir sus novedades en sus redes sociales: Instagram: @mute_food y en Facebook: @mutefood
Síguenos en Facebook e Instagram y descubre más recetas en #recetasconcalabizo.
Have you tried this recipe?
Upload an image to Instagram with your recipe and tag us!
Every day we are more lovers of Calabizo. Join up!