Fabada vegana con calabizo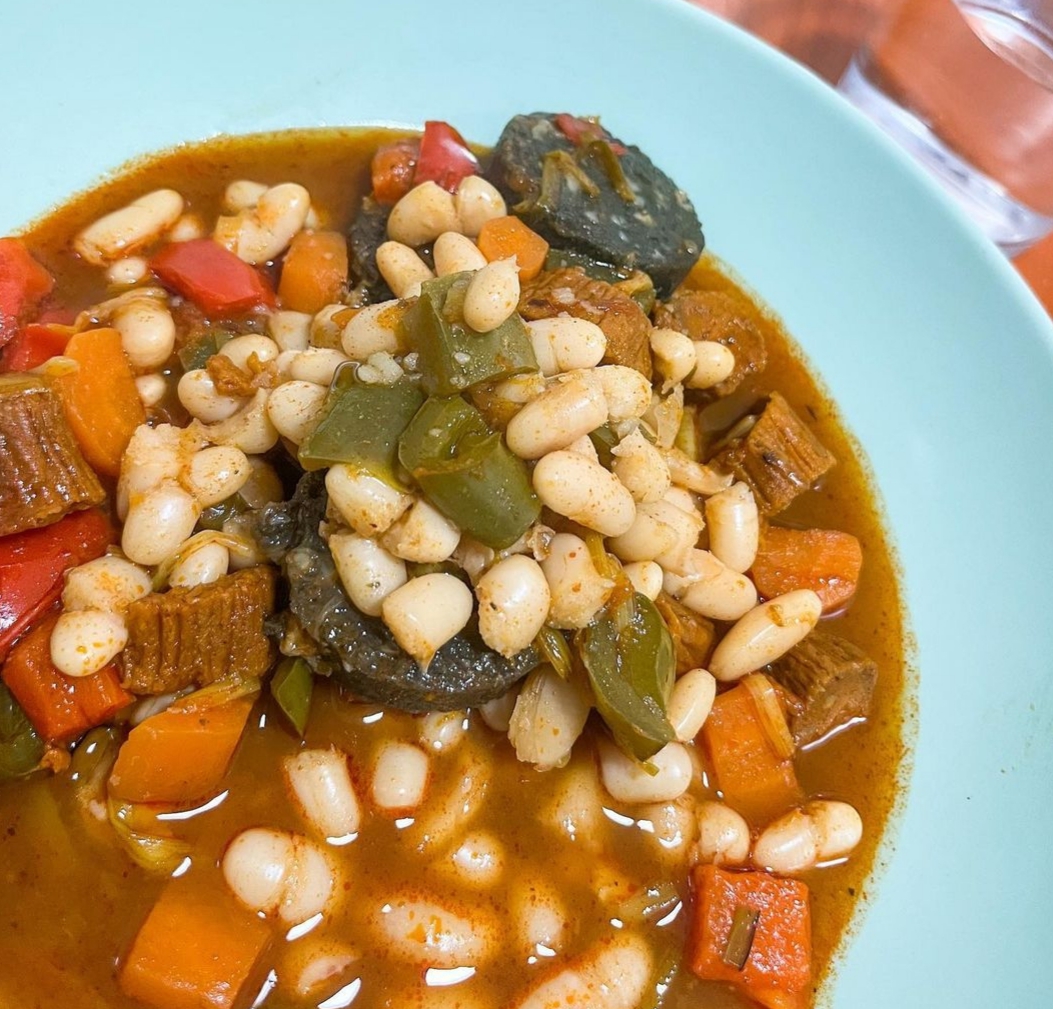 Imagina una fabada, y ahora, ¿podrás imaginarla 100% vegetal?
Aquí tienes esta estupenda receta en la que disfrutarás preparando esta sabrosa y nutritiva receta,  aunque más disfrutarás degustando este suculento plato de legumbres cuando lo tengas listo!
Por cortesía de Alex e Idaira, que juntos nutren su blog de recetas buenísimas y 100% vegetales. Puedes visitarlo en Instagram: Oym Vegan Food
Esperamos que te animes con esta sencilla receta y nos cuentes si te gustó!
500g de judías blancas
2 calabizos en rodajas
1 "morcilla" vegana en rodajas
1/2 cebolla picada
1 zanahoria en rodajas
1 pimiento verde en trozos
1/2 pimiento rojo en trozos
6 tazas de caldo vegetal frío
1 cucharada de pimentón ahumado
1/2 cucharadita de comino molido
1 hoja de laurel
sal al gusto
AOVE
•Dejamos las judías en remojo toda la noche, escurrimos y lavamos.
•En una olla, sofreímos la cebolla, la zanahoria y los pimientos durante 6-8 minutos. Agregamos el pimentón, la sal y el comino, mezclamos bien y cocinamos 30 segundos.
•Agregamos la judías a la olla junto el laurel y 4 tazas de caldo, llevamos a ebullición y cocinamos 30 minutos a fuego bajo, agitando la olla pero sin remover para no romper las judías.
•Añadimos 1 taza del caldo, debe estar frío, y cocinamos otros 30 minutos a fuego bajo.
•Agregamos la taza restante del caldo, debe estar frío, junto con los calabixos previamente pelados y cortados y la "morcilla" y cocinamos otros 30 minutos.
•Rectificamos de sal si hiciera falta.
Esperamos que te guste!
Have you tried this recipe?
Upload an image to Instagram with your recipe and tag us!
Every day we are more lovers of Calabizo. Join up!