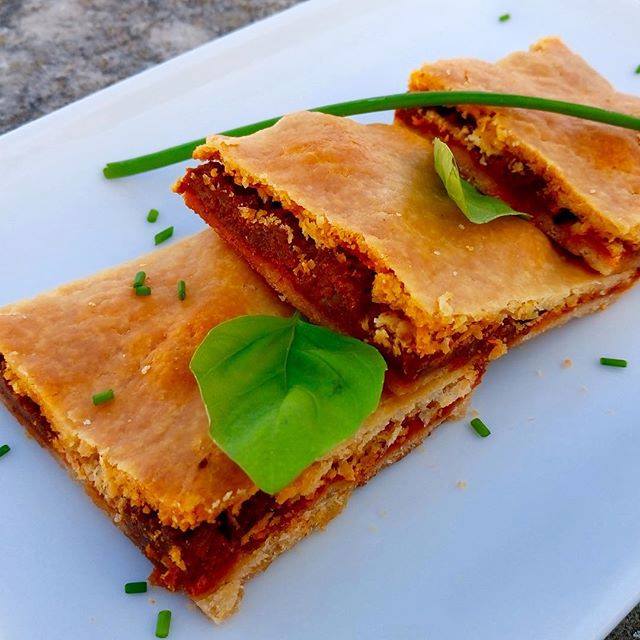 ¿Conoces el origen de la empanada?
La palabra "Empanada" viene de "empanar" que es "cubrir" los alimentos con masa pan y su origen está en España y cuenta con más de 500 años de antigüedad...
Las empandas aparecieron por primera vez en la invasión árabe en España, mencionadas en el libro de cocina catalán publicado en 1477 por el Mestre Robert y titulado el Llibre del Coch de Ruperto de Nola, en el cual ya se habla de empanadas de mariscos, atún, anguilas, congrui y truchas.
El propósito más importante de estas preparaciones era mantener en buen estado los alimentos, por más periodo de tiempo ya que la cocción dentro de una masa bien desarrollada conseguía proteger los ingredientes durante mas días.
En aquella época en España las empanadas se creaban con masa de harina de centeno o de trigo. Se rellenaban con carne de pescado o de caza y muchas veces con sobras de guiso. En Portugal y Galicia las empanadas se elaboraban de forma parecida, como una comida portátil y abundante para cualquier trabajador. El relleno de la empanada gallega y portuguesa por lo general incluía chorizo, atún o sardinas. El relleno también incluye una salsa de tomate, cebolla y ajo.
Aquí tienes la receta de esta sabrosísima empanada, EMPANADA DE CALABIZO, que viene desde el sur con ingredientes del norte, y por cortesía de Nayra y Alba del proyecto en Sotogrande (Cádiz) Calma Organic Shop, food & Beer una tienda gourmet con productos locales artesanos y especialidades veganas, como bien dicen ellas, ofrecen delicias para disfrutar de la vida con la cocina sana. Con calma.
Esperamos que te animes a hacerla y disfrutes de su intenso sabor!
Ingredientes para la masa de la empanada:
250g de harina común
0,075 litro de Agua
5g. de levadura fresca
10g. de sal
¼ taza de aceite de oliva
Ingredientes para el relleno:
2-3 unidades de Calabizo, picante o normal, al gusto
1 Kg. de Tomates Pera maduro. Entero, rallado o ya triturado
1 pimiento verde o rojo, mediano
1 diente de ajo
1 hoja de laurel
Sal marina
1 cucharadita de té de azúcar moreno o panela
Albahaca o alguna otra hierba aromática
Elaboración relleno
1) Comenzamos con el sofrito. Cortar la cebolla, el pimiento y el ajo en pequeños cuadraditos.
2) Rehogar con aceite de oliva y añadir el tomate previamente rallado junto con el laurel, azúcar y sal.
3) Tapar y dejar reducir mientras movemos de vez en cuando para que no se pegue, hasta que llegue a una consistencia espesa.
4) Ir probando para lograr el sabor de la salsa de tomate deseado y regular su acidez añadiendo algo más de panela o azúcar, si fuera necesario.
También podemos añadir otras hierbas aromáticas como tomillo u orégano. Al gusto.
5) Dejar enfriar la salsa de tomate y retiramos la hoja de laurel
6) Mientras se enfría, pelamos y cortamos en rodajas el Calabizo vegano. Reservar de forma separada.
Elaboración masa
7) Mezclar todos los ingredientes directamente en un bol, amasar dándole forma redondeada.
8) Dejar fermentar esta masa en un bol tapado durante 1 hora.
9) Pasado este tiempo, coger la masa y dividirla en 2 porciones iguales también en forma redondeada.
10) Extender la masa sobre la superficie de trabajo previamente espolvoreada con harina. Hacer este proceso con ambas partes para obtener la masa superior e inferior de la empanada.
11) Una vez estirada, pasar una de estas partes a una bandeja de horno preparada con papel vegetal de hornear.
Montaje y horneado
12) Añadir la salsa de tomate ya fría sobre la masa y extenderla uniformemente.
13) Añadir ahora las rodajitas de Calabizo bien repartidas por toda la masa (como cuando hacemos una pizza).
14) Después tapar con la otra masa e ir cerrando los bordes manualmente o ayudándonos con el tenedor.
Si lo hacemos manualmente, es conveniente humedecer con agua los dedos o el borde de la masa inferior antes de comenzar, para poder trabajar bien la masa.
15) Pinchar la masa, o dejar un hueco en el centro para que pueda respirar y no se rompa la masa.
16) Si se desea, pincelar la masa con un poco de AOVE en sustitución del huevo tradicional.
17) Con el horno precalentado previamente, introducir la empanada y hornear a 200ª unos minutos, revisando, hasta que esté dorada.
Una vez hecha, emplatar y, si se desea, colocar alguna hierba aromática como la albahaca encima, para darle un toque de presentación alegre además de un ligero aroma agradable tanto para el olfato como para el paladar.
Una empanada sencilla con un sabor a hogar increíble!
Have you tried this recipe?
Upload an image to Instagram with your recipe and tag us!
Every day we are more lovers of Calabizo. Join up!