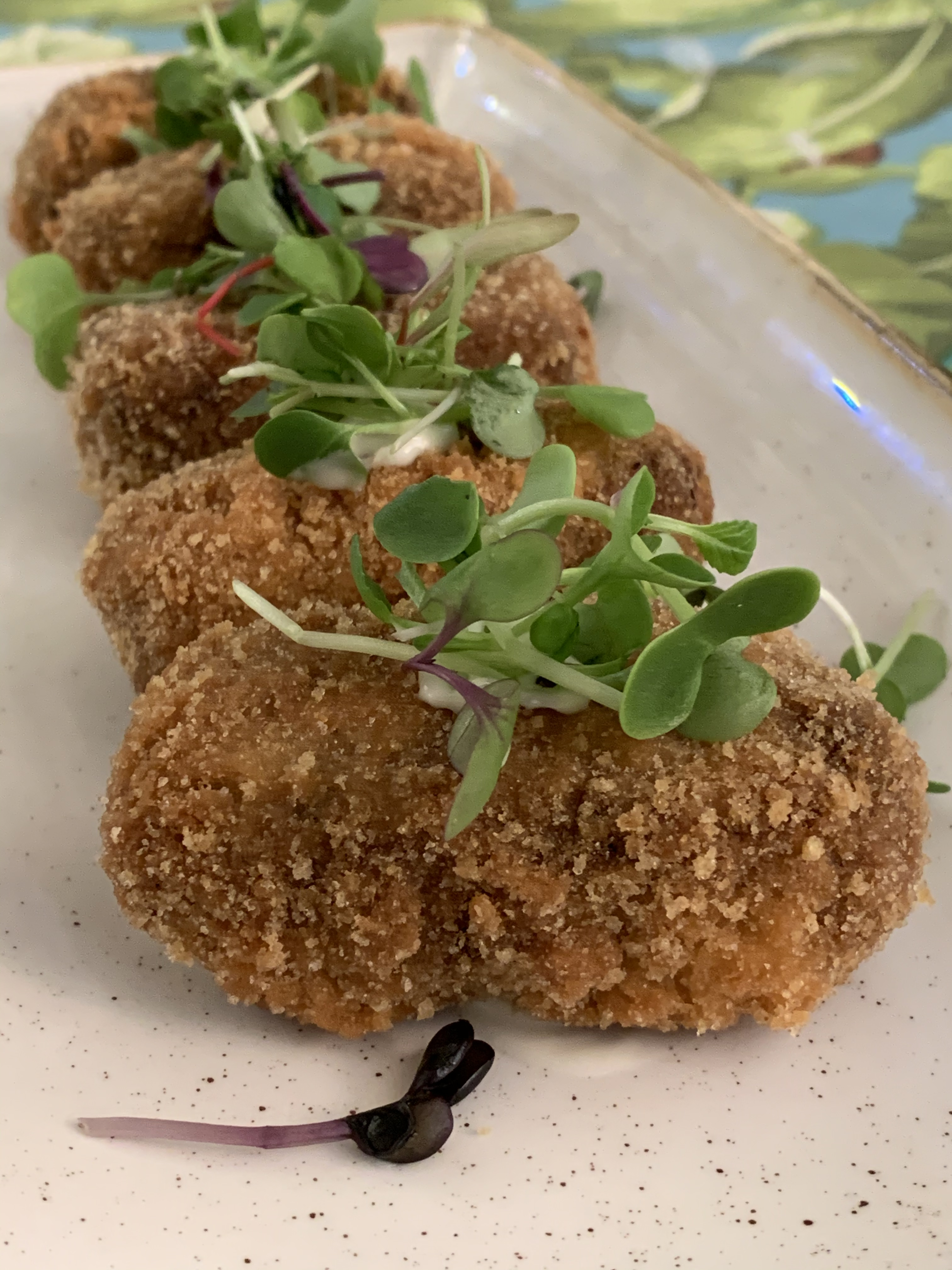 "Yo no le puedo gustar a todos, no soy una croqueta"
Este #lunessincarne os traemos una receta que no defrauda nunca a nadie... ¿a quién no le gustan las croquetas?
Directamente desde el barrio de Lavapiés en Madrid, exactamente en la Calle Fourquet nº 32, nos encontramos con el restaurante Distrito Vegano que tiene una cocina 100% vegana con productos frescos, de proximidad y artesanales de máxima calidad.
Su chef, Pablo Donoso, nos ha cocinado esta exquisitez y ha compartido su magnífica receta de croquetas con la familia "Calabizo".
Tomar nota y ¡a ponerlo en práctica!
Para la bechamel:
100 g. de aceite de Oliva extra virgen
350 g. de caldo de verduras y especias de cocido (pimentón ahumado, laurel en polvo, comino, pimienta negra)
500 ml de nata de soja sin azúcar
80 g. de harina sin gluten (la que usa Pablo Donoso es 30% almidón de maíz, 30 % sarraceno, 30% harina de arroz y 10% pisilium)
Para el relleno:
1 cucharada de aceite de oliva virgen
3 Calabizos
150 g. de calabaza cocida
Para el rebozado:
Harina de garbanzos
Harina de arroz
Agua
Pan rallado sin gluten
Mezclamos los ingredientes de la bechamel y llevamos a ebullición batiendo continuamente, cuando esté densa ir probando que no sabe a crudo y reservar.
Para el relleno cortar la calabaza cocida en trozos pequeños y el Calabizo en láminas finas. Sofreír un poco ambas cosas para que el Calabizo suelte sabor y color.
Mezclarlo con la masa, poner en un tupper y enfriar en nevera 8 horas.
Para bolear las croquetas hacemos bolitas de unos 25 gramos las pasamos por harina de arroz, luego por una mezcla de harina de garbanzos y agua, que sea líquida como un huevo batido, y por último por pan rallado.
Para freírlas tienen que haber reposado en nevera por lo menos 4 horas.
Podéis seguirle la pista a este restaurante y a su magnífico chef en sus redes sociales: @distritovegano tanto en facebook como en instagram.
¡¡¡Muchísimas gracias, Pablo!!!
Have you tried this recipe?
Upload an image to Instagram with your recipe and tag us!
Every day we are more lovers of Calabizo. Join up!