Crema de calabaza con virutas de Calabizo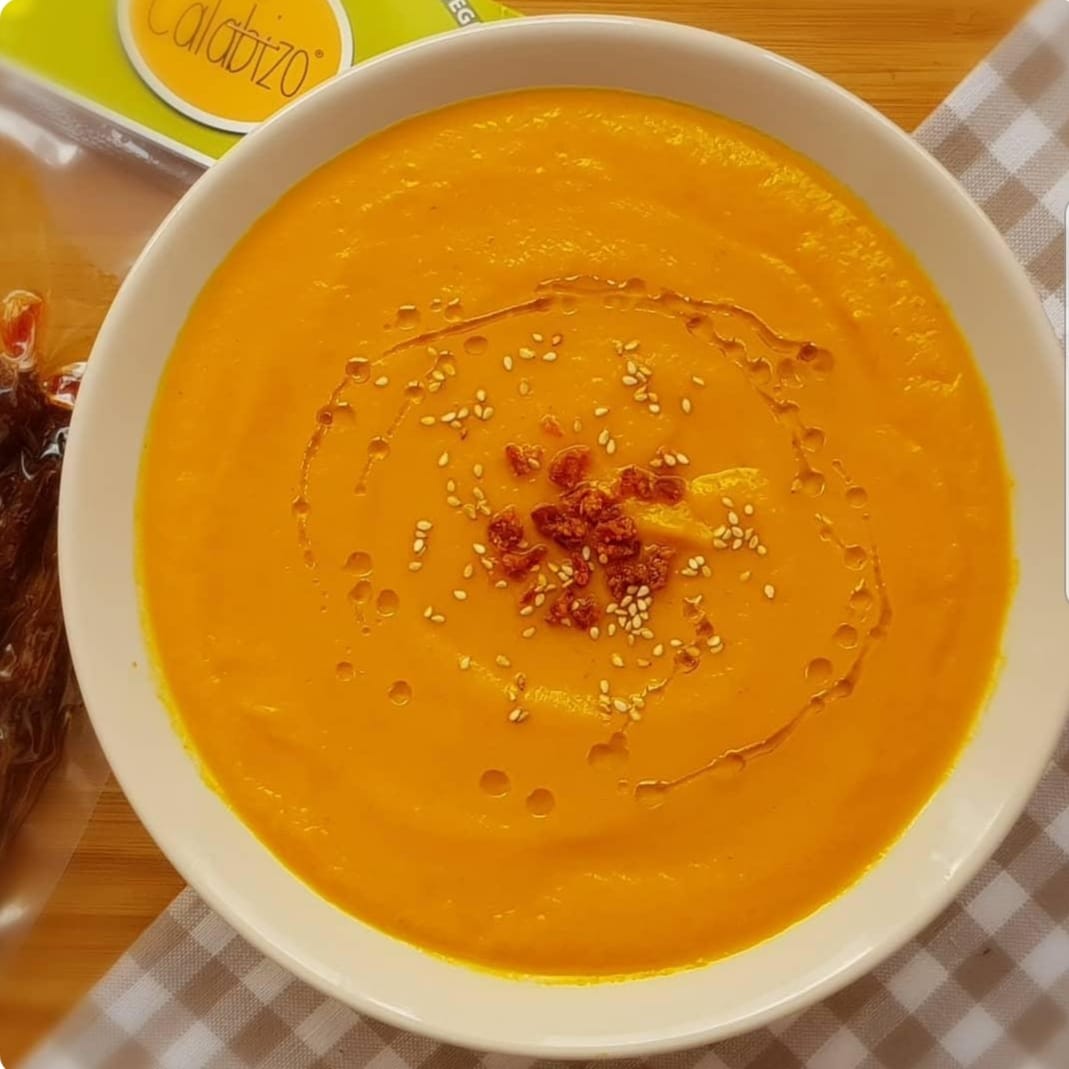 En Octubre, mes de la calabaza y de los días frescos, ya van apeteciendo platos de cuchara!
y hoy te traemos esta fantástica receta:  
CREMA DE CALABAZA
 con virutas de Calabizo! para darle un toque especial con nuestro embutido de calabaza.
La receta es de Mónica, doctora en química que le fascina la nutrición. Creadora del blog
La Manzana Roja
, en el cual comparte sabrosas recetas, basadas en comida real, sin azúcar, sin harinas refinadas y sin edulcorantes.
Su secreto es que en la misma preparación obtiene un caldo que aprovecha para hacer alguna sopa, añadirlo a algún arroz o aprovecharlo en otras recetas y aportar más sabor
.
Lo que hace es que una vez pochadas las verduras para que la crema tenga un sabor potente, cubre con bastante agua y lo pone  en la olla rápida. De esta manera las verduras quedan muy blanditas y a la vez se consigue un caldo súper rico lleno de sabor. A continuación os contamos cómo prepara esta apetecible receta.
400 g calabaza limpia.
Media cebolla dulce.
1 puerro grande.
2 tomates kumato.
2 zanahorias.
Calabizo.
Semillas de sésamo.
Sal y aove.
 En una olla rápida añadimos un chorro de aceite de olivia virgen extra y sofreímos la cebolla y el puerro cortados en brunoise.
Cuando estén tiernos y ligeramente dorados añadimos los tomates y zanahorias pelados y cortados en trozos. Removemos para que se integren y añadimos sal a gusto.
Cortamos la calabaza pelada en cubos y la añadimos junto con el resto de verduras, cocinamos todo junto unos minutos y cubrimos con agua (no tengáis miedo de pasaros de cantidad).
Cocinamos en la olla rápida. Una vez que estén tiernas las verduras, colamos para separar el caldo y las trituramos en un procesador de alimentos. Vamos añadiendo el caldo obtenido hasta que la textura esté a nuestro gusto.
Cocinamos el Calabizo (previamente pelado y cortado) a la plancha con un poquito de aeite de oliva virgen extra y se lo ponemos por encima a la crema junto con semillas de sésamo. El toque que le da es fantástico!
Esperamos que te guste!!!
Have you tried this recipe?
Upload an image to Instagram with your recipe and tag us!
Every day we are more lovers of Calabizo. Join up!