Coca valenciana de cebolla y tomates cherry con Calabizo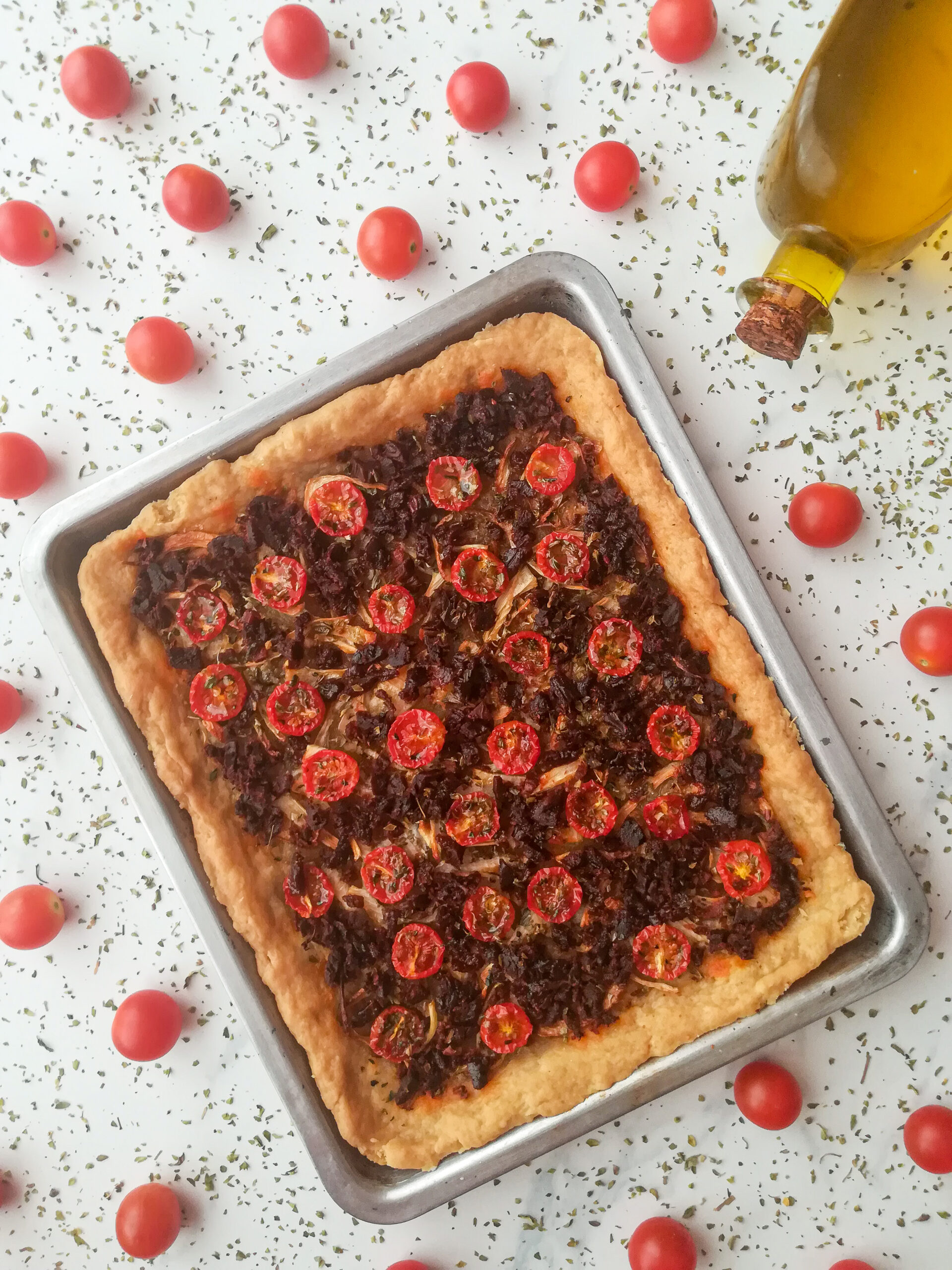 Aquí tienes una receta muy apetitosa, elaborada por
Veganiacos
, un blog de recetas veganas que comparten Alex y Tono desde Valencia.
Y Tono, como buen valenciano que es, ama las COCAS saladas, típicas de su tierra y de la costa mediterránea y pensó que podría usar nuestro delicioso embutido de calabaza para elaborar una . El resultado de ello fue un éxito, y es precisamente el que aquí te mostramos.
✔️ 220 gr. de harina de trigo
✔️ 90 ml. de agua tibia
✔️ 9 cdas. de aceite de oliva virgen extra
✔️ 1/2 cda. de vinagre de manzana
✔️ 2 cdtas. de sal
✔️ 1/2 cebolla blanca
✔️ 15 tomates cherry
✔️ 2 unidades de Calabizo picantes
✔️ 1 cdta. de ajo en polvo
✔️ 1 cdta. de orégano seco
Vierte en un bol 6 cucharadas de aceite, el agua, el vinagre y 1 cucharadita de sal, y mezcla todo con un tenedor.
Tamiza la harina con un colador, agrégala al bol e intégrala con el resto de ingredientes con tus propias manos hasta lograr una masa fácil de trabajar y nada pegajosa.
Engrasa una bandeja apta para horno con 1 cucharada de aceite y adapta sobre ella la masa, de forma que en los bordes se eleve ligeramente respecto a la base.
Precalienta el horno a 180°C durante 20 minutos.
Pela la cebolla, córtala en juliana y repártela sobre la masa.
Quita los rabos y la tripa artificial a los Calabizos, pícalos finamente y distribúyelos sobre la masa.
Lava los tomates, escúrrelos, córtalos en mitades y colócalos hacia arriba sobre la masa.
Aliña la coca con las 2 cucharadas restantes de aceite, 1 cucharadita de sal y el orégano.
Hornea a 180°C durante 35 minutos o hasta que los bordes de la masa estén ligeramente dorados.
Si te ha gustado esta receta te invitamos a que les des un like ❤️ en su Instagram de Veganiacos 
Have you tried this recipe?
Upload an image to Instagram with your recipe and tag us!
Every day we are more lovers of Calabizo. Join up!