Calabaza rellena de calabizo y mozzarella vegana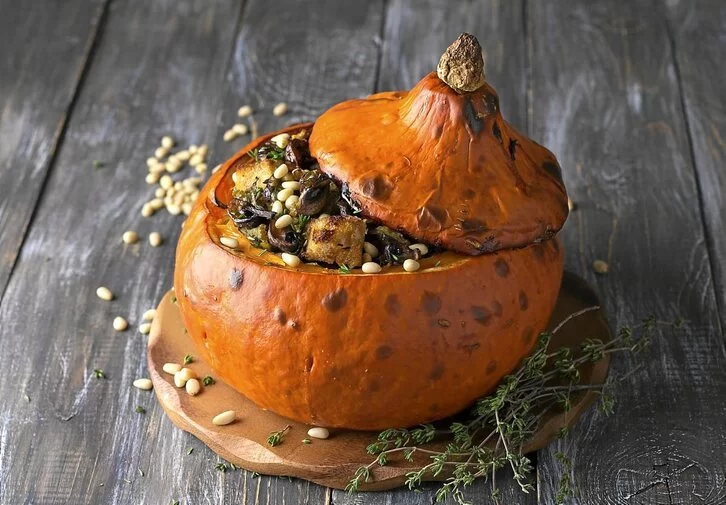 Espectacular presentación para esta original receta de Calabaza rellena de calabizo y mozzarella vegana, elaborada por el cocinero Javi Rivero y compartida en la sección Gastroteka de NAIZ, una web de información general que ofrece contenidos actualizados las 24 h del día durante todo el año.
Hace ya algún tiempo que nos encontramos con esta imagen y receta en Internet y nos sorprendió muy gratamente porque además de ser preciosa la imagen, descubrimos que está preparada con calabizo y eso es ya un puntazo!  Encontrarnos con una calabaza rellena de calabizo en la web es lo más!
Descubre a continuación esta maravilla y si eres de los que te gusta que todo el mundo se entere de las delicias que se pueden crear con una calabaza, no dejes de compartirlo!
Para 4 personas:
• Una calabaza variedad potimarron de 2 kg aproximadamente
• 6-8 calabizos
• 2 berenjenas
• 200g de piñones
• 1 cebolla grande
• 3-4 dientes de ajo
• 1 jengibre
• Un vaso de brandy
• Tomillo fresco
• Pimienta negra
• Sal
• Aceite de oliva virgen extra
• Mozzarella vegana
• En una cazuela rehogar a fuego vivo todas las verduras, bien picaditas (el jengibre muy muy picado), junto con el calabizo, una rama de tomillo y un punto de pimienta y sal.
• Cuando la verdura haya sudado un poco y se empiece a tostar, añadir los piñones y el vasito de brandy y dejar que reduzca hasta que se seque. Retirar del fuego y reposar mientras vaciamos la calabaza.
• Cortar una "tapa" bastante ancha a la calabaza. Vaciar de pepitas y hebras con la ayuda de una cuchara. Rellenar bien, casi hasta arriba, y colocar la tapa. Hornear la calabaza a 180° durante unos 30 minutos.
• Añadir la mozzarella rota antes de tapar y hornear la calabaza.
• Servir al centro, quitar la tapa, y romper la calabaza para mezclarlo todo antes de degustarla.
A disfrutar!
Have you tried this recipe?
Upload an image to Instagram with your recipe and tag us!
Every day we are more lovers of Calabizo. Join up!