Calabacines luna rellenos de arroz, portobello y Calabizo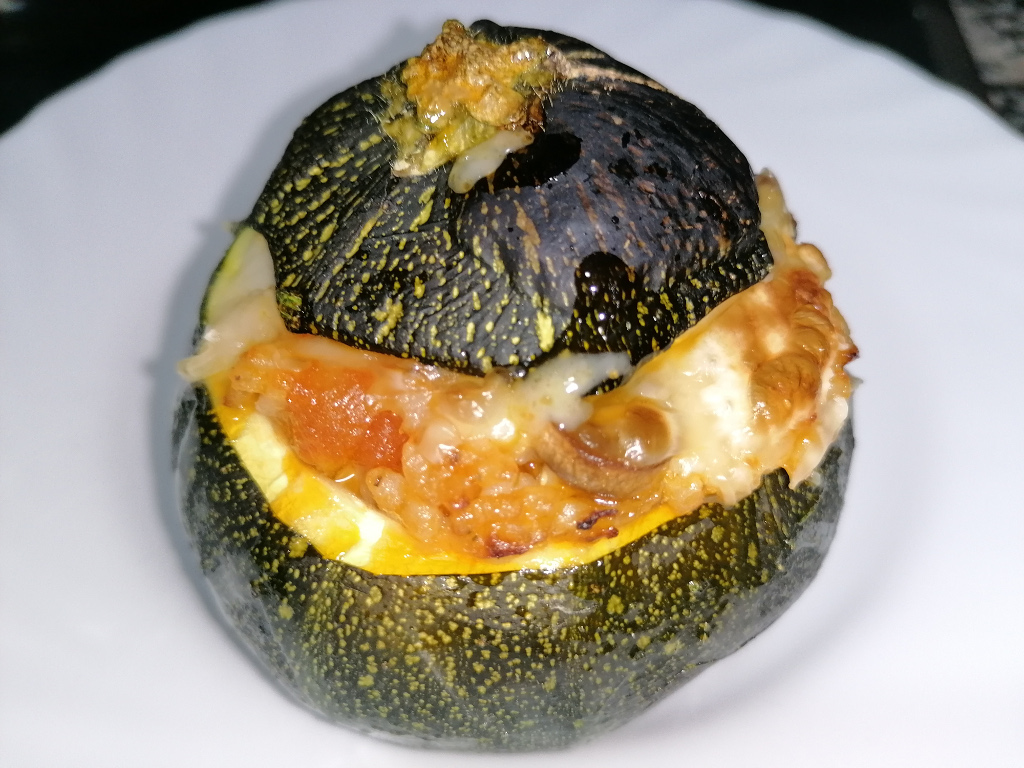 Compartimos esta receta vegana deliciosa! Muy fácil de preparar y muy sabrosa.
Nuestro embutido de calabaza le queda que ni pintado! y hay quien se lo pone picante para darle un puntito más de sabor!
La receta es por cortesía de Miriam Jiménez Cuesta, actriz y vegana, que le encanta como bien dice ella "Cocinar los vegetales con amor". En Instagram podéis encontrarla en @miriam3jc
4 calabacines luna (redondos).
4 ó 5 tazas de arroz integral eco cocido.
Aove para rehogar.
1 cebolla eco grande.
3 dientes de ajo eco.
250 gm de champiñones portobello.
Chorro de vino blanco eco y vegano.
1 Calabizo. (normal ó picante, al gusto)
La pulpa de 1 ó 2 calabacines.
2 ó 3 cucharadas de tomate frito casero o eco.
Sal marina yodada, pimienta negra, perejil.
Queso vegano (opcional).
Mientras ponemos el arroz a cocer (calculado que tarda sobre unos 45 minutos), cortamos los sombreros de los calabacines y reservamos,.
- Vaciamos los calabacines con una cuchara y con mucho mimo y cuidado de que no se nos rompan; cuando ya tengamos la pulpa retirada reservamos los calabacines y la pulpa a parte.
- En una sartén grande añadimos un buen chorro de aceite de oliva virgen extra y la cebolla partida en cuadraditos, cuando esté transparente le añadimos los dientes de ajo muy picaditos y cuando esté todo dorado le añadimos los champiñones portobellos picados también muy pequeños, damos vueltas rehogando todo muy bien, a fuego medio.
- Cuando estén los champiñones portobello bien hechos añadimos un buen chorro de vino blanco y seguidamente el Calabizo pelado y cortado en rebanadas mezclándolo todo muy bien, ponemos el fuego bajo.
- Seguidamente incorporamos la pulpa del calabacín picada muy finita y continuamos mezclando hasta que se haya evaporado el alcohol del vino.
- Cuando esté todo bien rehogado, añadimos el arroz, la sal, la pimienta negra, el perejil y el tomate frito y mezclamos de nuevo muy bien unos minutos para que se integren todos los sabores, probamos y rectificamos de sal si hiciera falta.
- Pasamos a rellenar los calabacines, podemos poner un poquito de queso vegano por encima y les ponemos la tapa a modo de sombrero.
- Los metemos al horno a 250°C . Deben estar unos 25 minutos o hasta que al pinchar el calabacín esté con la textura deseada y con ojo, no se nos quemen, hay que vigilarles, que cada horno es un mundo.
-Y listos para disfrutar!!!
Have you tried this recipe?
Upload an image to Instagram with your recipe and tag us!
Every day we are more lovers of Calabizo. Join up!