Albóndigas veganas con Calabizo y espagueti de calabacín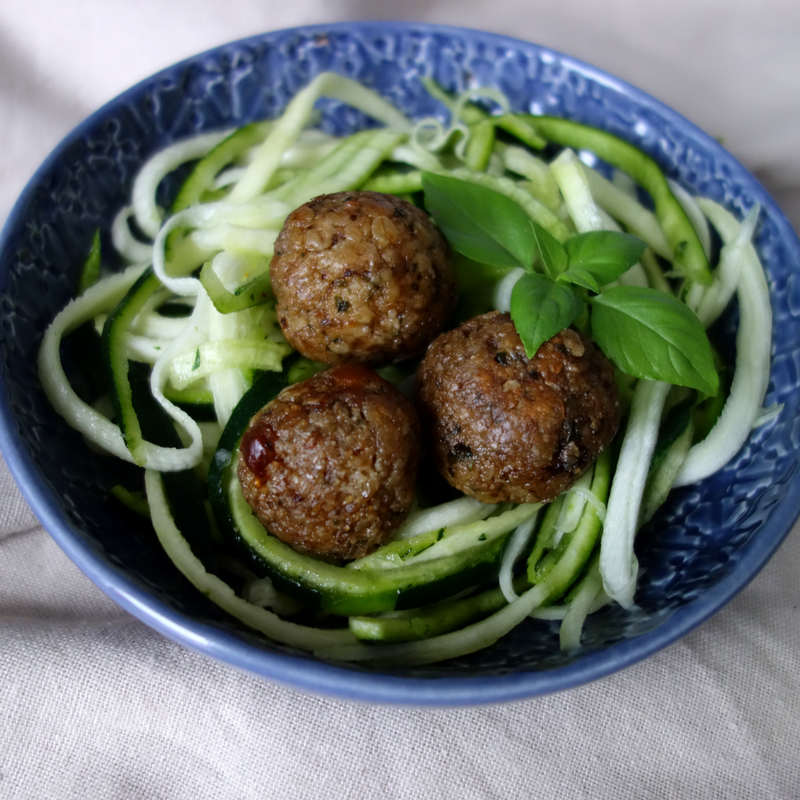 Hoy os traemos esta riquísima receta de albóndigas veganas elaborada por Patricia, autora del blog Medio Limón, en el cual presenta su cocina vegetal ¡para toda la familia!
200 g de lentejas cocidas escurridas (pueden ser en conserva)
1/2 cebolla
1 diente de ajo
100 g de avena en copos finos
2 Calabizos
Aceite de oliva, sal, pimienta y orégano
Albahaca fresca
1 calabacín mediano
Rehoga en un par de cucharadas de aceite de oliva, la cebolla y el ajo bien picaditos hasta que estén dorados.
En el vaso de la batidora vierte las lentejas, el sofrito, una pizca de sal y orégano.
Vierte en un bol amplio y añade los Calabizos troceados en cuadrados muy pequeños y la avena, mézclalo todo hasta conseguir una textura consistente y manejable, si es necesario puedes añadir más avena.
Forma las albóndigas y fríelas en aceite de oliva hasta que estén doradas, reserva sobre un papel absorbente.
Con un espiralizador, forma los espagueti de calabacín, colócalos en un fuente, añade una pizca de sal, pimienta y aceite de oliva y sobre ellos las albóndigas, decora con albahaca fresca y ¡disfruta!
Notas: los espaguetis también pueden cocinarse durante unos segundos en agua hirviendo o saltearlos con un poco de aceite de oliva y ajo, pero en versión cruda, ¡también están muy buenos!
¡¡¡Esperamos que la disfrutéis tanto o más como nosotras!!!
Have you tried this recipe?
Upload an image to Instagram with your recipe and tag us!
Every day we are more lovers of Calabizo. Join up!