Acelgas con calabizo picante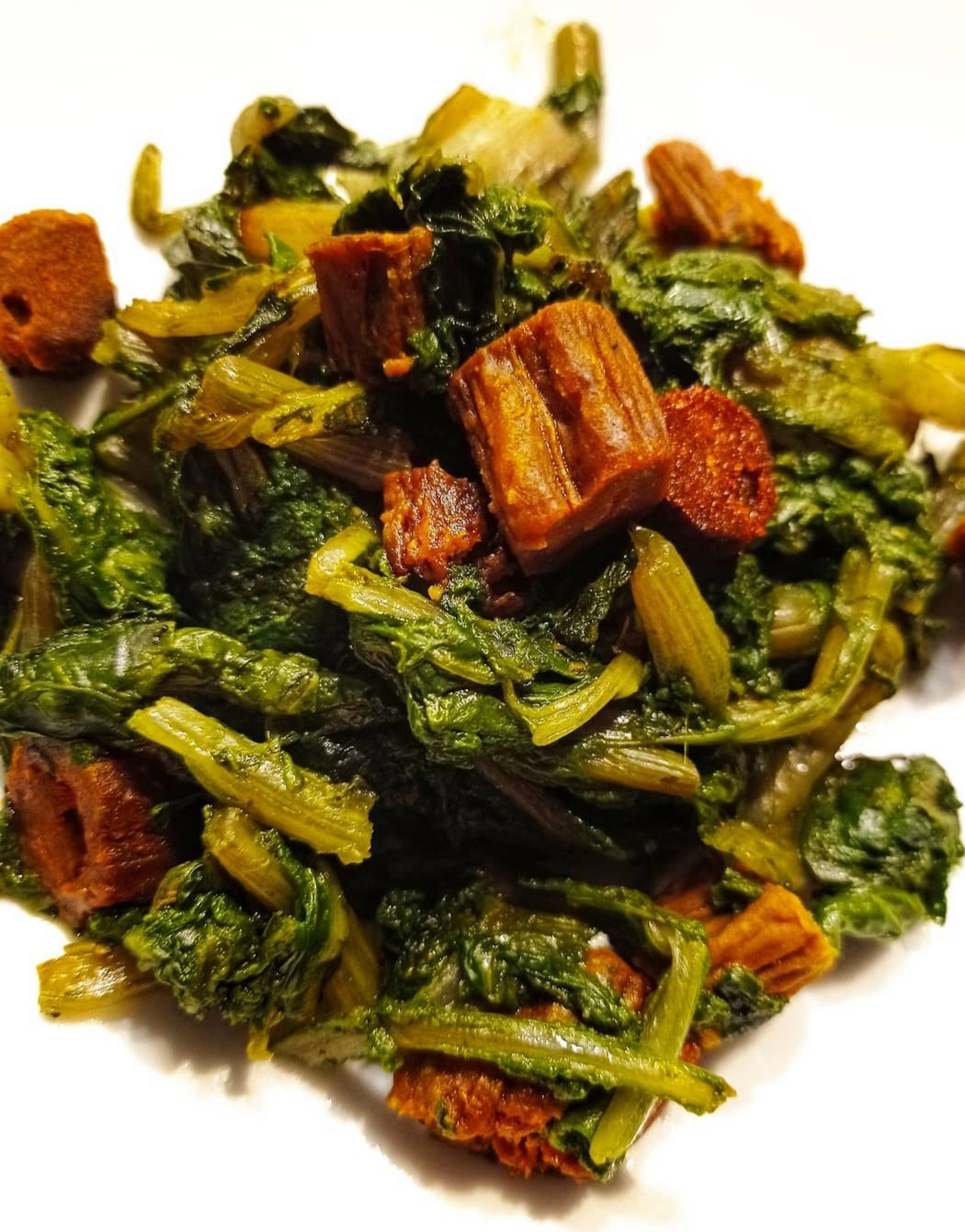 Mira qué idea tan apetitosa para saborear unas buenas acelgas, con lo nutritivas que son!
La acelga (que se puede consumir cruda en ensaladas o cocinada) es una verdura muy apreciada ya que aporta vitaminas (A, B1, B3, B5, B6, B9, C, además de vitamina E y vitamina K), fibra, ácido fólico y sales minerales (calcio, sodio, potasio, y tienen contenido en cobre, hierro y fósforo) con un alto contenido de agua (48%).
Esta verdura se caracteriza por sus grandes hojas de color verde brillante y por sus nervios marcados. Los tallos llamados pencas pueden ser blancos, amarillos o rojos según de qué variedad de acelga se trate y su sabor combina muy bien con nuestro embutido vegetal de calabaza; y en versión picante mejor, para darle ese puntito de alegría!
Gine Herrero, vegana y celíaca, a través de su blog de recetas vegetales y sin gluten @cuidomicuerpini, comparte estas acelgas con calabizo picante que no te dejarán indiferente.
Como bien dice ella, una receta bien rica y muy fácil de preparar.
Esperamos que disfrutes de tan sabrosa receta.
1 manojo de acelgas frescas
1 calabizo picante
Aceite de oliva virgen extra (AOVE)
Sal
Pimentón de la Vera
Lavar y limpiar bien las acelgas. Una vez limpias, cocinarlas al vapor unos 15-20 minutos para conservar así todos sus nutrientes y escurrirlas.
Una vez escurridas, saltear las acelgas con un chorro de aceite de oliva virgen extra junto con un ajo bien picado y agregar un poco de pimentón de la Vera. Rehoga.
Añade el calabizo picante, pelado y troceado y saltéalo un par de minutos más junto con las acelgas previamente salteadas y rehogadas.
Have you tried this recipe?
Upload an image to Instagram with your recipe and tag us!
Every day we are more lovers of Calabizo. Join up!