Tortilla vegana de boniato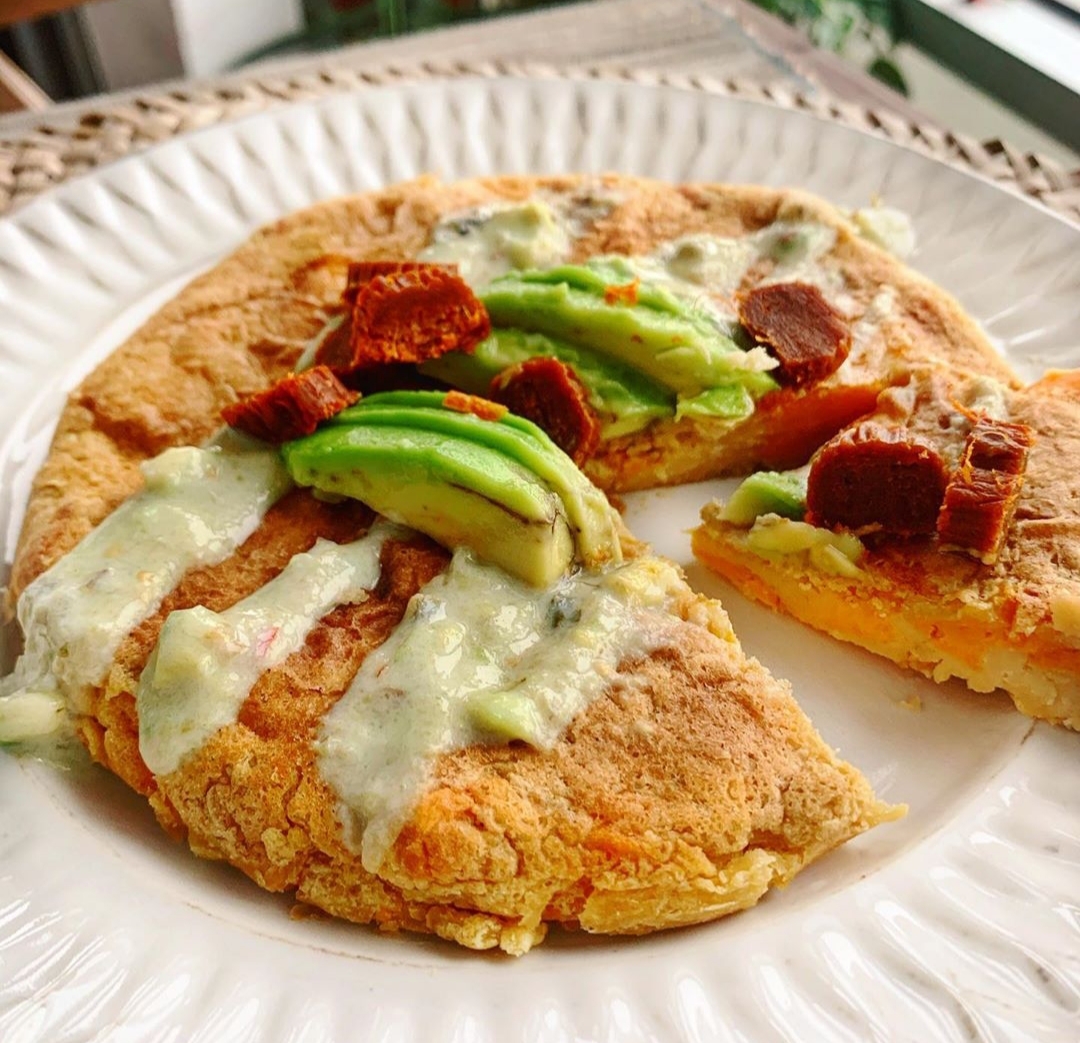 ¿Imaginas una tortilla vegana de boniato?
El mundo de la cocina es infinito, ya que hay mil formas diferentes de preparar platos tan típicos como una tortilla.
Esta vez compartimos una tortilla hecha con boniato y SIN HUEVOS!
Receta por cortesía de Ángela O., ella se define como "Realfooder y come plantas" en su Instagram @ann.eatsgreen descubriréis muchas recetas veganas que os sorprenderán como está, que está repleta de sabores!
INGREDIENTES (1/2 personas):
100 g. de garbanzos de bote o garban
1 cucharada de harina de garbanzo.
1 cucharada de proteína de soja (podéis usar soja texturizada o más harina de garbanzo).
Sal negra (opcional, pero le da un regusto y olor que recuerda al huevo).
1/2 boniato
INGREDIENTES PARA ACOMPAÑAR:
Embutido de calabaza: Calabizo (en este caso dulce)
Aguacate
Salsa picante de yogur: mezcla de yogur de soja y salsa verde mexicana.
Metemos el boniato en la Lekue durante tres minutos (también podéis cocerlo, hacerlo al vapor, al horno…) y, mientras, batimos los garbanzos con la proteína y el agua justa para que no queden tropezones.
Este puré lo mezclamos con la harina de garbanzo, sal negra, sal normal y levadura nutricional. Añadimos el boniato partido en trocitos y mezclamos bien. Si hiciera falta podemos añadir más líquido (tiene que quedar una textura líquida pero muy espesa).
Llevamos a una sartén (MUY antiadherente) engrasada a temperatura alta durante casi 1 minuto (colocad la tortita con cuidado con una espátula, se pegará mucho). Bajamos el fuego, cubrimos la sartén y esperamos unos 3-5 minutos. Se necesita paciencia.
Damos la vuelta con cuidado con ayuda de un plato, VOLVEMOS A ENGRASAR y ponemos el otro lado otra vez 1 minuto a temperatura alta y luego bajamos. Hay que sacarla con mucho cuidado porque estará si cuajar en el medio: yo la deslicé con cuidado sobre el plato, pero podéis darle la vuelta otra vez.
Servimos con nuestros acompañantes y disfrutamos del contraste de sabores entre el dulzor del boniato y la potencia del Calabizo.
Esperamos que disfrutes de esta diferente receta de tortilla de boniato
y SIN HUEVOS!
Have you tried this recipe?
Upload an image to Instagram with your recipe and tag us!
Every day we are more lovers of Calabizo. Join up!